Services
Organization Chart
Document Inquiry
Licence
Our Management
Information
Procedue
N Garden Sheds Enterprise
169A, Jalan Seri Impian 1,
Taman Impian Emas,
Skudai, 81300 Johor.

07-5591325/5578995

07-5579016

n_garden_sheds

One in five workers in Malaysia is a foreigner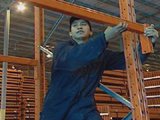 Almost 20 per cent of the labour force in Malaysia are foreigners. This translates into one foreigner to every five local workers.
A symposium on foreign workers policy in Malaysia was also told that almost half of more than 252,600 jobs created in the country each year, were for foreigners.
Human Resource Ministry secretary-general Datuk Thomas George said the increasingly liberal policy towards employment of foreign workers was attributed to rapid economic growth drive largely by rapid industralisation taking place in the country.
Opening the National Symposium on Foreign Workers Policy in Malaysia, organised jointly by the ministry and the International Labour Organisation (ILO), he said there were some 2.2 million foreign workers in the country out of the total workforce of 11.3 million people.
However, George added that the government was persistently taking measures to reduce over-dependency on foreign workers and to safeguard employment for locals.
The government has decided to progressively reduce the current dependency on foreign workers from 2.2 million to 1.5 million by 2015.
In terms of sectors, foreign workers are predominantly employed in the manufacturing sector at 36 per cent, followed by plantation 24.6 per cent, as domestic maids 15.7 per cent, construction sector 14.2 per cent and the rest in other sectors.
George said the past year or two, the ministry had engaged in numerous forums with employers, unions and non-governmental organisations, and had come to a general consensus that there was a need to reduce dependence on foreign workers, improve the management of foreign workers and to have clear and more stringent procedures on their entry.
He said efforts were also being made to protect their rights, have clear contracts prior to departure from sending countries, and hold third party engaged in labour movement accountable of any breaches.
George said Malaysia acknowledged that it needed foreign workers, at least for now, and to address some major areas to ascertain the actual demand according to sectors.
He said it also needed to study the impact of foreign workers on the Malaysian labour environment, including the issues of wages, working conditions, health, compensation and employment conditions, and to tighten the process of recruitment and continuous management of foreign workers.
Meanwhile, a senior officer from the ministry, Azizah Ariffin, said foreigners took about 45 per cent of new jobs created annually in the country.
Delivering a paper on assessing the need for foreign workers and its impact on the Malaysian economy, Azizah said the over-utilisation of foreign labour resulted in a host of problems, including lower average productivity, displacing of local workers, depressed wages, unfavourable balance of payment, and social and safety issues.
She said although foreign workers contributed 11.1 per cent to the country's Gross Domestice Product in 2006, they remitted about RM3.43 billion out of Malaysia last year to their country of origin.
"Because of the high percentage of foreign workers, wage rates, especially for unskilled workers in Malaysia, will remain low and employers will want to employ foreigners because they are relatively cheaper.
However, she said, the government was striving to reduce the dependence on foreign labour in the various sectors:
In the manufacturing sector, it would legislate new policies and strategies to attract more participation of women in the labour market, implement an effective mechanisation programme and identify skills needed by the industry, carry out training programmes and assist SMEs to use mechanisation to reduce foreign recruitment.
For the service sector, it would enforce self-service methods, particularly for petrol stations and restaurants.
It would also provide an attrative and conducive working environment for local workers and provide tax exemption incentive to encourage automation.
As for the plantation sector, the government would attract rural people with better basic infrastructure, health services, schools, affordable homes and day-care centres.
For the construction industry, it would encourage the implementation of the Industrial Building System (IBS) and grant importation permits to import cranes.