Services
Organization Chart
Document Inquiry
Licence
Our Management
Information
Procedue
N Garden Sheds Enterprise
169A, Jalan Seri Impian 1,
Taman Impian Emas,
Skudai, 81300 Johor.

07-5591325/5578995

07-5579016

n_garden_sheds

Anger as foreign workers stranded at Malaysia airport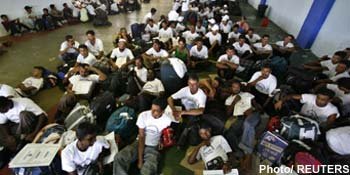 Malaysia is red-faced after hundreds of newly arrived foreign workers have been forced to take shelter at its biggest airport because their employers are too lazy to collect them in time.
A putrid stench hangs over an airport carpark turned into an immigration depot as the workers, mainly Bangladeshi men, sleep on the cement floor or queue to use the only toilet at the shelter.
"We are starving," Mohamad Ali Jinnah, a 39-year-old Bangladeshi, said on Thursday. "We are not allowed to leave and no one fed us since we arrived yesterday."
Malaysia, Southeast Asia's third biggest economy, has in recent years become a magnet for foreign workers to help fill menial jobs that Malaysians shun.
With 26 million people, Malaysia is home to 2.7 million legal foreign workers, mainly from Indonesia, Bangladesh, Nepal and India. Hundreds of thousands more are working illegally.
Immigration authorities said the workers were being held under tight security at the carpark, about five minutes' walk from the main terminal, to prevent an "unpleasant" sight for air travellers.
"We can't have them running around the airport and congesting the premises," immigration chief Wahid Don was quoted by the Star newspaper as saying.
Rights group Suaram called for government action.
"This is an embarrassment," Elizabeth Wong, a board member of privately funded Suaram, one of Malaysia's leading rights groups, told Reuters.
"We should be more concerned about the welfare of the workers as opposed to what sort of image that the airport presents.
"The government is still very lackadaisical in terms of regulating companies that supposedly have the permits to import workers," she added. "There are cases that these workers were duped."
There have been cases in the past involving foreign workers stranded at the airport, but the numbers were relatively small. The problem of late has been caused by a spike in the number of arrivals.
The airport shelter, manned by volunteer security force Rela personnel, is no larger than the size of two football fields. Some of the workers are kept in windowless cells.
Immigration officers, some wearing face masks because of the stench, work at the site to process the papers.
One officer said the workers would be sent to a detention centre for deportation if no employers turn up within three days to collect the workers.
Mohamad Ali, the Bangladeshi worker, said he was clueless when his employer, a planter, would pick him up.
"I just want to get out of here. I need money to support my family."